Table of Contents
2022 Guangxi University for Nationalities for Chinese Government Scholarship
About Guangxi University for Nationalities
Founded in 1952, Guangxi University for Nationalities, or GXUN, lies in Nanning, capital of Guangxi Zhuang Autonomous Region. GXUN includes two campuses: East Campus and West Campus. With an area of 1983 mu, the University consists of 23 colleges, with 3 doctorate's, 68 bachelor's and 79 master's degree programs.
According to the statistics in May, 2014, this school has 19,743 enrolled students, among whom there are 1,340 postgraduates, 14,765 undergraduates, 1,001 junior college students, 1,742 preppies and 895 overseas students.
GXUN is an institution to recruit international students under the Chinese Government Scholarship, Confucius Institute Scholarship, and Nanning Foreign Affairs Office Scholarship. It's also an institution to recruit international students from Southeast Asian Nations under Guangxi Government Scholarship. 
As a test center for HSK (Chinese Proficiency Test), a Chinese languange training center for talents in Southeast Asian Nations, an Executive School of the Training Program in China for Overseas Chinese Teachers, and one of China's Key Universities Helping Teaching Chinese in the Surrounding Countries, GXUN have trained 12,000 overseas students in all so far.
It was awarded the Advanced Collective for Foreign Students' Education twice respectively in 2009 and 2014 by Foreign Students Management Branch affiliated to China Association of Higher Education.
It actively carries out international cooperation and exchange activities, and has established exchanges and cooperation with 136 foreign universities or academic institutions from 17 countries and regions.It has established three Confucius Institutes with Mahasarakham University in Thailand, National University of Laos and Unversitas Tanjungpura, Indonesia.
A lot of important political learders of ASEAN came to GXUN for a visit, among whom were Cambodian King Sihanouk, Vietnamese President Tran Duc Luong, Vietnamese Deputy Prime Mininister Pham Gia Khiem, Thai Princess Sirindhorn, Laos Prime Minister Bouasone Bouphavanh and Laos Congress Chairman Pany YATHOTOU etc. A Thai Language Training Base was establised in this school by the Ministry of Education of Thailand.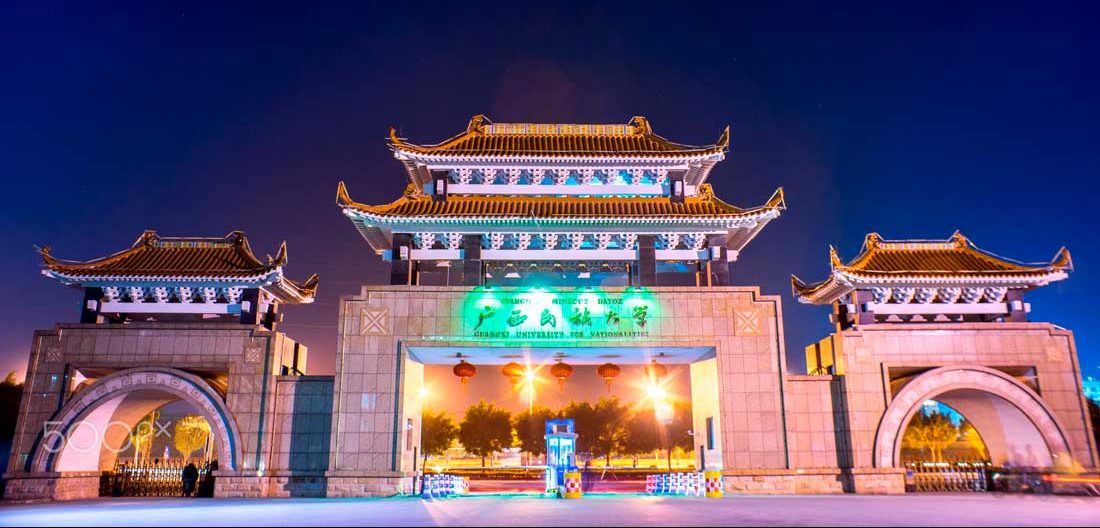 Program Information
1. Programs: Full time postgraduate programs.
2. Academic Programs: Attachment 1.
Scholarship Coverage
1. Tuition fees;
2. Free university dormitory;
3. Stipend:
Master's students: CNY 3,000 per month;
Doctoral students: CNY 3,500 per month.
4. Comprehensive medical insurance.
Eligibility
To be eligible, an applicant must:
1. be a citizen of a country other than the PRC and in good health both mentally and physically;
2. be an academically excellent holder of a Bachelor's degree or its equivalent under the age of 35 when applying for a Master's program;
3. be an academically excellent holder of a Master's degree or its equivalent under the age of 40 when applying for a doctoral program;
4. have acquired the Chinese proficiency of HSK Level 4 when applying for Chinese-taught master's or doctoral programs;
5. meet the admission requirements of Guangxi University for Nationalities in terms of academic ability, language proficiency and other relevant criteria.
Application Process and Deadline
1. Application Process: Attachment 2.
2. Deadline: April 10, 2022.
Application Documents
1. An applicant shall fill in and submit the Application Form for Chinese Government Scholarship online via the Chinese Government Scholarship Information System (http://www.campuschina.org);
Note:
Please select Program Category "Type B". The institution code of Guangxi University for Nationalities is 10608.

2. Copy of Passport Home Page. If the validity of the applicant's current passport does not meet the requirement (meaning the passport expires before September 2022), please apply for a new passport before submitting the application;
3. Notarized highest diploma. Prospective diploma winners must submit official proof of student status by their current school. Documents in languages other than Chinese or English must be attached with notarized Chinese or English translations;
4. Academic transcripts (from the undergraduate program onwards). Copies of academic records from first to last semester during the undergraduate, graduate (if any), and doctoral programs (if any) shall be provided. These transcripts shall be issued and sealed by the attending university's academic affairs office, graduate school, or student management department. 
They can be in Chinese or English, but must be attached with notarized English translations if they are in foreign languages other than English;
5. Language qualification certificates. Applicants for Chinese-taught programs must submit valid HSK reports. Applicants for English-taught programs shall provide relevant language proficiency certificates, like IELTS or TOFEL report;
6. Pre-admission documents. Pre-admission documents issued by Guangxi University for Nationalities, including an official admission letter, a pre-admission letter, or an invitation letter from a prospective supervisor recognized by the department of international students admission at Guangxi University for Nationalities. 
The pre-admission letter or official invitation letter shall be printed on the special-purpose letter of Guangxi University for Nationalities and issued and sealed by the university's international students admission office;  
7. A study plan proposal. A study plan written in Chinese or English shall contain more than 1,000 characters or words; the proposal of a doctoral student shall be signed by the applicant's Chinese supervisor;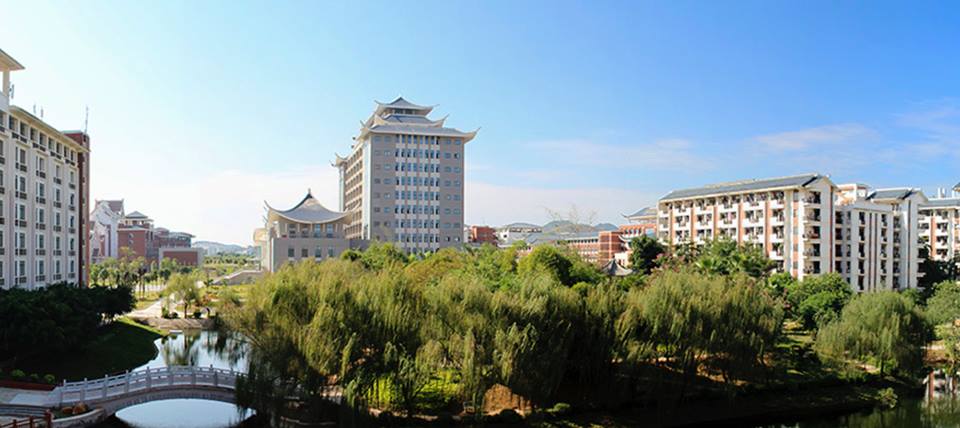 8. Recommendation letters. Two letters of recommendation (written only in Chinese or English) from professors or associate professors shall be submitted. These letters shall describe the applicant's objectives of learning in China, comprehensive abilities, and evaluation of future growth, as well as the cooperation between the supervisors or the exchange between universities both in China and abroad;
9. Example of art. To apply for majors related to art or design, applicants could submit their own works through"Example of Art/Other Supporting Documents" in the system. Applicants could also provide such materials to us directly in other ways;
10. Applicants under the age of 18 should submit the valid documents of their legal guardians in China;
11. A photocopy of the Foreigner Physical Examination Form completed in English (the original copy shall be kept by the applicant). The form is designed by the Chinese quarantine authority and can be obtained from the dispatching authority. 
The physical examinations must cover all the items listed in the Foreigner Physical Examination Form. Incomplete records or those without the signature of the attending physician, the official stamp of the hospital, or a sealed photograph of the applicants are invalid. Please select the appropriate time to take a physical examination as the result is valid for only 6 months.
12. Non-criminal record report. The applicant shall submit a valid certificate of Non-Criminal Record issued by the local public security authority, usually issued within 6 months prior to the submission date of the application.
Reminder:
Uploaded supporting documents must be clear, authentic and valid. Applicants are recommended to use a professional device to scan the relevant documents. Applicants shall bear the consequences caused by unclear or unidentifiable uploaded materials.

Admission Process and Enrollment
Guangxi University for Nationalities will examine applicants' eligibility and academic performance. Guangxi University for Nationalities shall submit the recommended candidates list and their application documents to CSC. The CSC will organize designated universities and experts concerned to examine applicants' eligibility and academic performance before finalizing the short-list candidates.
The CSC will notify the admission results to Guangxi University for nationalities that will subsequently have the applicant informed. All admitted students will receive an admission notice from Guangxi University for Nationalities. An applicant please provides the correct contact information. Students Admitted shall enroll before the deadline indicated on the admission notice.
Contact
Address: College of International Education, Guangxi University for Nationalities, 188 East Daxue Road, Nanning, Guangxi, P.R.China
Postal code: 530006
Tel: +86-771-3260237
Email: gxmddxb@163.com;
Website: http://www.gxun.edu.cn/
Appendix
1. Catalog of Academic Programs
2. Instructions for Chinese Government Scholarship Information System (CGSIS)
3. Foreigner Physical Examination Form
上一条:广西民族大学2022/2023学年中国政府奖学金"高校研究生"项目招生简章
下一条:2022年广西民族大学广西政府东盟国家留学生奖学金招生简章
If you want to get more information, please contact us: chinascholarship.net
THE END