Table of Contents
2022 China University of Geosciences for Presidential Scholarship
About China University of Geosciences
China University of Geosciences (CUG), a key national university affiliated to the Ministry of Education (MOE) and authorized by the state to establish Graduate School, is one of the first group of universities listed in the national "211 Project" andthe national "Double World-Class Project".
Located along the shore of East Lake andseated at the foot of Mount Nan Wang, CUG features in a world-class specialization in geosciences, incorporating a wide range of research fields into diverse categories such as Science, Engineering, Literature, Management, Economics, Law, Educationand Art etc.

CUG's two national primary key disciplines, Geology and Geological
Resources and Geological Engineering, are listed in the "Double First-Class Disciplines". 
CUG's 7 fields, namely, Geosciences, Engineering, Environmental
Science / Ecology, Material Science, Chemistry, Computer Science and Social
Science have been listed in the top 1% global institutions in ESI (Essential ScienceIndicators), with Geosciences and Engineering among the top 1‰.
According tothelatest rankings published by U.S. News & World Report, CUG is ranked as: NO. 1 Best Universities for Geosciences in China, NO. 7 Best Global Universities for
Geosciences, NO.25 Best National Universities in China and NO.314 Best Global
University.
Program Introduction
International Students Presidential Scholarship (hereinafter referred to as CUGScholarship) is set by China University of Geosciences (CUG), which is usedtoencourage qualified international students who would like to pursue degree programsat CUG, especially for excellent students who have excellent academic backgroundand language proficiency.
Application Eligibility
1. Non-Chinese citizens with a valid passport, be in good health, 
2. Undergraduate program: applicants must be a high school graduate under the ageof 25;
Master Program: applicants must be a bachelor's degree holder under the age of
35;
Doctoral Program: applicants must be a master's degree holder under the age of
40;
3. Postgraduate Program applicants must be accepted by the CUG relevant facultyor
be in the recommended list published by admission office;
4. Students from Partner Universities, University teachers, scholars and government
officials from one belt and one road countries are preferred.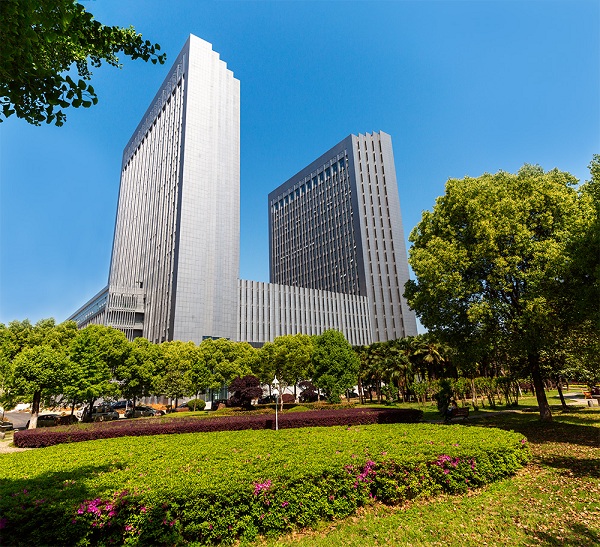 Scholarship Coverage
CUG Scholarship only provide partial scholarship with 4 types: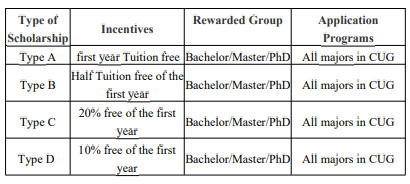 Deadline of application
April 15, 2022 – June 15, 2022
Application procedure
1. Register and submit online application at http://admission.cug.edu.cn/
2. Upload all the required documents, download and print out the application formafter completing online application.
3. Wait for the Admission Notice and Visa Application Form.
Thêm Heading của bạn tại đây
Please upload all the listed documents below to the application system:
1. CUG application form (in Chinese or English);
2. Photocopy of a valid passport;
3. Notarized highest diploma (notarized in Chinese or English, Prospective diplomarecipients should submit official document issued by your current school to prove not only your current student status, but also the expected degree certificate andgraduation date, Original certificate must be presented when you come to register);
4. Complete Academic transcripts; Transcripts in languages other than Chinese or
English must be attached with notarized Chinese or English translations;
5. Two Recommendation Letters. Applicants must submit two recommendation letters
signed by associate professor or above from your graduate university. The applicants
from Partner University, Education institute and Government department need to
submit one recommendation letter from your current organization;
6. A personal statement (written in Chinese or English)which should be a minimum of 800 words, with learning and working experiences, application reason and study plan;
7. Certificate of No Criminal Record;
8. The International Student Economic Guarantee Copy of the passport and work or
income certificate of the guarantor;
9. Foreigner Physical Examination Form with blood test result valid in half a year;
10. Applicants under age 18 (until sep.2022) must submit GUARDIAN'S LETTEROF GUANRANTEE in China;
11. HSK certificates or English language proficiency certificate TOFEL/ IELTS. (If
applicable, Applicants with good language proficiency are preferred);
12. Students currently in China should submit the photocopy of the residence permit
page and a proof of school performance from the current school;
13. Other additional documents (e.g. acceptance letter by CUG professors, award
certificates, paper and publications)
Note:
Language proficiency: English native speakers do not need to provide thecertificate; English non-native speakers should provide the certificate of TOEFLorIELTS test score, or other certificates with the same level's certificate (If available);
HSK certificate (If available); Applicants whose highest education is taught inEnglish/Chinese can provide certificate of teaching language.

Admission and Enrollment
CUG admission committee will determine the final results of the admissionaccording to the application documents students submitted, and announce theadmission list on the website and send the Admission Notice and Visa Application Form (JW202) to the awardees at the end of July every year. 
Note:

1. Applicants must have a positive attitude towards study and have outstanding
academic rating;
2. HSK level 3 or above is need for Chinese-taught Program applicants;
3. No receiving any other types of scholarship at the same time.
Contact
Mr. Liu (Hugo) / Ms. Wu
Tel: +86-27-6788 3283
Fax: +86-27-8751 5956
E-mail: overseas@cug.edu.cn
Website: https://iec.cug.edu.cn/(Chinese Version)
https://eniec.cug.edu.cn/(English Version)
Address: Admissions Office of International Education College, China Universityof
Geosciences 388 Lumo Road, Wuhan, Hubei, P. R. China
If you want to get more information, please contact us: chinascholarship.net
THE END