2020 Hainan Normal University Confucius Institute Scholarship
Main Details
Introduction to Hainan Normal University
Hainan Normal University is located in Haikou, the capital of Hainan Province. Established in 1949, it is one of the key universities in
Hainan with fairly good overall strength. The university now has 21
schools, 7 provincial key disciplines, 7 provincial research bases of
humanities and social sciences, including 4 first-level doctoral disciplines,
11 first-level master disciplines and 62 undergraduate majors. Among the
full-time teachers, 599 are professors and associate professors. The students on campus are over 20,000.
The university started to enroll international students in 1988. Now itis one of the first universities approved to admit international students by State Education Commission, and one of the first Chinese education bases established by Overseas Chinese Affairs Office of the State Council.
The university provides Chinese Government Scholarship, Confucius Institute Scholarship, Hainan Government Scholarship and Hainan Overseas Chinese Language and Culture Education Scholarship for international students. The university is the Southeast Asian Teachers' Training Base for Promotion of Chinese, under the approval of Confucius
Institute Headquarters / Hanban, the site for HSK in Hainan, and has been awarded by Hainan Provincial Department of Education to the Preparatory Education School for Hainan international students.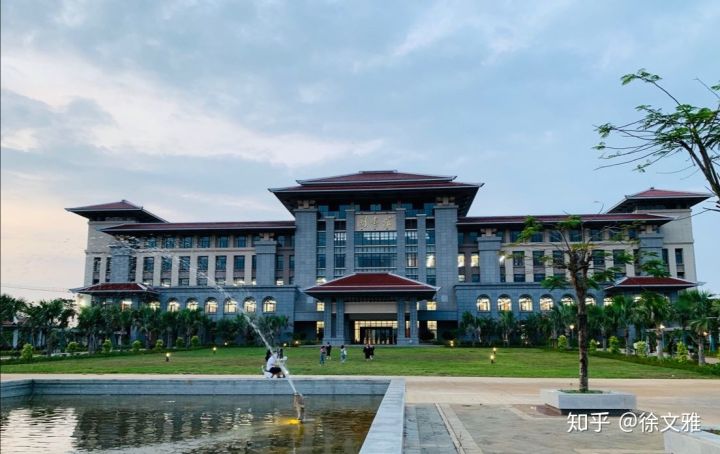 At present, the university has undertaken academic exchanges with over 100 universities and education institutions in 58 countries, established sister relationship with 53 foreign universities and education institutions, and cooperated with 10 universities in cultivation of talents.
Strengths of the University
Complete Facilities
With three campuses of Longkunnan, Guilinyang, and Linshan, Hainan Normal University covers an area of 1,500,000 square meters. The teaching and research instruments value 273,422,300RMB in total. We also have 2 key laboratories co-founded by Hainan Province and Ministry of Education, 3 provincial key laboratories, 1 national model center of experiment teaching and 5 provincial model centers of experiment teaching. We offer 205 internship bases for students and 2,088,000 volumes of books in the library for students and teachers.
With multi-media classrooms, students' reading rooms and multi-media terrace report halls, the buildings for Chinese language teaching occupy 3,500 square meters. The Chinese culture experience museum boasts an area of 4,489 square meters, including Chinese traditional handicraft classroom, costume and textile exhibition hall, calligraphy and painting exhibition hall, tea art demonstration hall and Chinese martial art hall.
All-round Services
We are active, enthusiastic, considerate and effective in delivering services to students, such as airport pickup and formalities assistance.
Beautiful Environment
The school is located in Haikou, a coastal tourist city and the national historic and cultural city. Hainan is a southernmost province and the only tropical island in China. With an average temperature of 23.8℃, it has a long summer and no winter. As the first ecological province in China, Hainan is the best tourist destination for holiday in terms of its first-class environment and unique customs. Therefore, it's also called green island, ecological island, safe island and vacation island by Chinese and foreign tourists.
Convenient Transportation
In Hainan, there are 3 airports, Meilan International Airport in Haikou Boao Airport in Qionghai and Phoenix International Airport in Sanya, offering 440 international and domestic routes. It boasts Cross-sea Railway, high-speed railway around Hainan island. Besides, Haikou is also adjacent to Hong Kong, Macao and Guangzhou, each of which is within 50 minutes of flight
Confucius Institute Scholarship
The category of scholarship includes Scholarship for Students of Master's Degree in Teaching Chinese to Speakers of Other Languages (MTCSOL), Scholarship for Bachelor's Degree in Teaching Chinese to Speakers of Other Languages (BTCSOL) , Scholarship for One-Academic-Year Students, Scholarship for One-Semester Students and Scholarship for Four-Week Study Students. You can apply for this scholarship to the International student Admission office of School of International Education, Hainan Normal University . The deadline for application is April 20th (Admission time is July), May 20th (Admission time is September), September 20th (Admission time is December), November 20th (Admission time is March of 2020).
For more information: http://cis.chinese.cn/account/login
Training Programs
No.

Types of Chinese Language

 

Class

Major Courses

 

 

 

1

 

Chinese Language Class (beginner's class, elementary class, secondary class, senior class and advanced class)

Chinese Intensive Reading, Chinese Reading, Chinese Writing, Oral Chinese, Chinese Listening, Chinese Culture,

Chinese Martial Arts

 

 

 

2

 

 

 

Chinese Medicine Class

Chinese Intensive Reading, Chinese Reading, Chinese Writing, Oral Chinese, Chinese Listening, Chinese Medicine,

Chinese Martial Arts

 

3

Short-term Chinese Language Class

Arranged    according     to                   the requirement of client

 

4

 

HSK Class

Arranged    according     to                   the practical needs
Enrollment Requirements
(1) Observing the law of PRC and regulations of the University
(2) Honest
(3) Healthy
(4) Aged from 16 to 60
Visit chinascholarship.net to get more information!
Enrollment Procedure
Application online
The applicant should apply online from our website: http://study.hainnu.edu.cn/
Upload required documents
Upload required documents online
Examination of qualification
Your qualification for any program will be examined Once approved, you will receive a letter of admission.
Payment of tuition
After receiving the letter, you shall remit the tuition to the account of the University as stated below.
Account name: Hainan Normal University
Bank: Haikou Qiongshan Sub-branch, Hainan Branch, Bank of China Account number: 266254215135
Swift code number: BKCHCNBJ740
Visa application
The University will help you to apply for your visa to China (Form JW202). Once approved, we will send you the original copy. 
Visa formalities
You shall finish the visa formalities with the letter of admission, Form JW202, physical examination certificate and passport in the Chinese embassy or Chinese general consulate in your country.
Registration
Please come to the University for registration with the letter of admission, passport and eight passport photos, and pay the accommodation fee and other charges.
Contact
Address: No.99, Longkunnan Road, Haikou, Hainan, PRC School of International Education, Hainan Normal University
Postcode: 571158
Telephone: 0086-898-65819460
Fax: 0086-898-65819460
E-mail: hainnu@sina.com
THE END