2023 Chinese Government Scholarship for Nankai University
Table of Contents
In Tianjina coastal metropolis of China26 colleges,
92 undergraduate programs,
28 post-doctoral research stations,
31 authorized primary Doctoral programs
Previous
Next
Since its founding in 1919, Nankai University (NKU) has forged a strong academic reputation. While the university was elected into the national 'double first-class' initiative, its chemistry, material science and engineering, mathematics, statistics and world history programs were also designated as 'double first-class' subject areas.
Known as the 'North Star' among China's higher education institutions, Nankai is committed to providing students with a rigorous, broad-based and globally oriented education, and has pioneered some of the most innovative programmes available today. Its distinctive environment is one where students think critically, innovate widely and contribute actively to the community.
Applicant Eligibility for Nankai University's Chinese Government Scholarship
Masters candidates, PhD candidates
Applicant Eligibility Requirements of Chinese Government Scholarship
1. be a citizen of a country other than the PRC and in good health both mentally and physically;
2. be an academically excellent holder of a Bachelor's degree or its equivalent under the age of 35 when applying for a Master's program;
3. be an academically excellent holder of a Master's degree or its equivalent under the
age of 40 when applying for a doctoral program;
4. Majors such as the first language or other country's languages like French or English are not supported by scholarship; 
5.Applicants must not hold another Scholarship.
Application Period of Chinese Government Scholarship
Before March 31 of each year
Introduction to Eligible Majors and Study Lengths of Chinese Government Scholarship
*Attached: 

Listing of 2022 Nankai University Master's Programs Available for International Students.xlsx

Listing of 2022 Nankai University PhD Programs Available for International Students.xlsx
Application Steps of Chinese Government Scholarship
1. Log in to the Nankai University International Student Online Service Registration Platform and fill out the application information.https://nankai.at0086.cn/StuApplication
2. Log in to"Study in China Online Registration Information Platform"(https://studyinchina.csc.edu.cn/#/login),fillout the information, upload the necessary documents and submit. (Study Abroad Program, please select B, for the institution code please fill in Nankai University Code Number 10055)
Notes:
Please confirm all information and steps. 
1.Information must be consistent, if not, take steps to fix the inconsistencies. 
2. Information must be accurate!
3.Take note of notifications concerning the application progress, evaluation, and scholarship results.
4.Respond to University emails in a timely manner and confirm mattersconcerning the scholarship.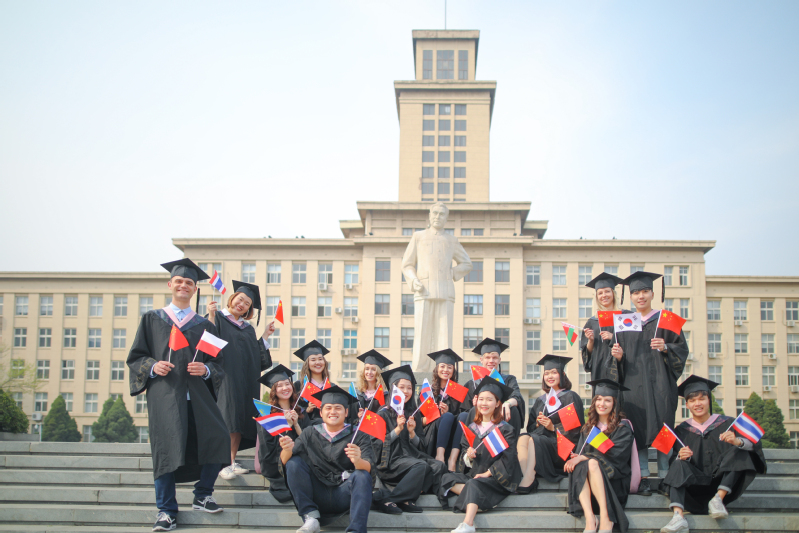 Evaluation and Acceptance of Chinese Governmant Scholarship
All information provided in admissions must be consistent with the information on the applicant's passport and visa or residence permit.
After the applicant's materials are reviewed, the department of the major applied for will set up an interview with the applicant. The time of the interview will be announced by the relevant department.
After the evaluation of materials and the interview have been passed,theapplicantwillbe admitted. After admission, the school will perform another review of the materials and the applicant's personal information. If any inconsistencies, false documentation, etc. are detected, they will be grounds for immediate disqualification of scholarship eligibility.
Scholarship eligibility will be determined finally by theChinese Scholarship Council (CSC) and the results will be announced each year before July.
Additional Information of Chinese Government Scholarship
If the scholarship winner does not register at Nankai at the appointed time, then the scholarship will not be held for the applicant.
Upon arriving in China, the scholarship winner may not transfer to different school or major.
Contact Information with Nankai University
People to Contact:Li Dan,Zheng Shuangshuang
Tel:0086-22-23508825、0086-22-23508686
Email:nkadmission01@nankai.edu.cn
Visit chinascholarship.net to get more information!
School/College                  
Major
Research Direction
Medium of Instruction
Length of   Schooling
Tuition Fee (CNY/Year)
Whether to Offer Online Courses
011 Chern Institute of Mathematics
070100 Mathematics
01 Fundamental Mathematics
Chinese
3
30000
No
02 Probability/Statistics
Chinese
3
30000
No
03 Applied Mathematics
Chinese
3
30000
No
070201 Theoretical Physics
01 Theoretical Physics
Chinese
3
30000
No
012 School of Mathematical Sciences
070100 Mathematics
01 Fundamental Mathematics
Chinese
3
30000
No
  02 Numerical Mathematics
Chinese
3
30000
No
03 Probability/Statistics
Chinese
3
30000
No
04 Applied Mathematics
Chinese
3
30000
No
06 Bioinformatics
Chinese
3
30000
No
07 Mathematical Economics
Chinese
3
30000
No
021 School of Physics
070200 Physics
01 Theoretical Physics
Chinese
3
30000
No
02 Particle and Nuclear Physics
Chinese
3
30000
No
03 Condensed Matter Physics
Chinese
3
30000
No
04 Optics
Chinese
3
30000
No
05 Optoelectronic Information Science and Technology
Chinese
3
30000
No
06 Physics of Life Information
Chinese
3
30000
No
022 TEDA Institute of Applied Physics
070200 Physics
01 Condensed Matter Physics
Chinese
3
30000
No
02 Optics
Chinese
3
30000
No
03 Optoelectronic Information Science and Technology
Chinese
3
30000
No
031 School of Electronic Information and Optical Engineering
080300 Optical Engineering
00 No Distinction between Research Directions
Chinese
3
30000
Yes
080900 Electronic Science and Technology
00 No Distinction between Research Directions
Chinese
3
30000
Yes
081000 Information and Communication Engineering
00 No Distinction between Research Directions
Chinese
3
30000
Yes
085400 Electronic Information
01 New Generation of Electronic Information Technology
Chinese
3
30000
Yes
02 Communication Engineering
Chinese
3
30000
Yes
03 Integrated Circuit Engineering
Chinese
3
30000
Yes
04 Photo-Electronic Information Engineering
English
3
35000
Yes
038 Software Institute
083500 Software Engineering
00 No Distinction between Research Directions
English
2
30000
Yes
040 College of Environmental Science and Engineering
071300 Ecology
00 No Distinction between Research Directions
Chinese
3
30000
Yes
083000 Environmental Science and Engineering
01 Environmental Science
Chinese
3
30000
Yes
03 Environmental Engineering
Chinese
3
30000
Yes
04 Environmental Management and Economics
Chinese
3
30000
Yes
05 Resource Recycling Science and Engineering
Chinese
3
30000
Yes
06 Environmental Science
English
3
35000
Yes
085701 Environmental Engineering
00 No Distinction between Research Directions
Chinese
3
30000
Yes
051 College of Chemistry
070300 Chemistry
01 Inorganic Chemistry
Chinese
3
30000
No
02 Analytical Chemistry
Chinese
3
30000
No
03 Organic Chemistry 
Chinese
3
30000
No
04 Physical Chemistry
Chinese
3
30000
No
05 Polymer Chemistry/Physics
Chinese
3
30000
No
06 Chemical Biology
Chinese
3
30000
No
07 Refined Chemicals
Chinese
3
30000
No
085602 Chemical Engineering
00 No Distinction between Research Directions
Chinese
3
30000
No
090400 Plant Protection
01 Phytopathology
Chinese
3
30000
No
02 Agricultural Insects and Pest Control
Chinese
3
30000
No
03 Agricultural Pharmacology
Chinese
3
30000
No
095132 Resource Utilization and Plant Protection
00 No Distinction between Research Directions
Chinese
3
30000
No
052 School of Materials Science and Engineering
080500 School of Materials Science and Engineering
01 Material Physics/Chemistry
Chinese
3
30000
No
02 Material Science
Chinese
3
30000
No
085601 Material Engineering
00 No Distinction between Research Directions
Chinese
3
30000
No
060 College of Life Sciences 
070305 Polymer Chemistry/Physics
01 Biomedical Polymer Materials
Chinese
3
30000
No
071000 Biology
01 Botany
Chinese
3
30000
No
02 Zoology
Chinese
3
30000
No
03 Microbiology
Chinese
3
30000
No
04 Genetics
Chinese
3
30000
No
05 Cell Biology
Chinese
3
30000
No
06 Biochemistry and Molecular Biology (Department of Biochemistry)
Chinese
3
30000
No
07 Biochemistry and Molecular Biology(Department of Material)
Chinese
3
30000
No
086001 Bioengineering
00 No Distinction between Research Directions
Chinese
3
30000
No
063 TEDA Institute of Biological Sciences and Biotechnology
071000 Biology
01 Microbiology
Chinese
3
30000
No
02 Biochemistry and Molecular Biology
Chinese
3
30000
No
065 School of Pharmacy
086002 Pharmaceutical Engineering
00 No Distinction between Research Directions
Chinese
3
30000
Yes
100700 Pharmacy
01 Pharmaco chemistry
Chinese
3
30000
Yes
02 Pharmaco gnosy
Chinese
3
30000
Yes
03 Microbial and Biochemical Pharmacy 
Chinese
3
30000
Yes
070 Medical School
071003 Physiology
00 No Distinction between Research Directions
Chinese
3
30000
No
083200 Food Science and Engineering
01 Food nutrition and Health
Chinese
3
30000
No
02 Food Science
Chinese
3
30000
No
03 Food Safety
Chinese
3
30000
No
100200 Basic Medicine
01 Human Anatomy and Histology
Chinese
3
40000
No
02 Immunology
Chinese
3
40000
No
03 Pathogenic biology
Chinese
3
40000
No
04 Pathology and Pathophysiology
Chinese
3
40000
No
05 Medical Biochemistry and Molecular Biology
Chinese
3
40000
No
06 Medical Physiology
Chinese
3
40000
No
100200 Clinical Medicine
01 Internal Medicine
Chinese
3
40000
No
02 Geriatrics
Chinese
3
40000
No
03 Imaging Medicine and Nuclear Medicine
Chinese
3
40000
No
04 Clinical Laboratory Diagnostics
Chinese
3
40000
No
05 Surgery
Chinese
3
40000
No
06 Oncology
Chinese
3
40000
No
100300 Stomatology
01 Clinical Stomatology
Chinese
3
40000
No
080 College of Chinese Language and
Culture
045300 Teaching Chinese to Speakers of Other Language
01 Chinese Teaching and Research as a Second Language
Chinese
2
30000
Yes
02 Research on Second Language Acquisition
Chinese
2
30000
Yes
03 Chinese Language Communication and Culture
Chinese
2
30000
Yes
050100 Chinese Language and Literature
01 Linguistics and Applied Linguistics
Chinese
3
26000
No
02 Chinese Lexicology
Chinese
3
26000
No
091 School of Literature
050100 Chinese Language and Literature
01 Literature and Art
Chinese
3
26000
No
02 Linguistics and Applied Linguistics
Chinese
3
26000
No
03 Chinese Lexicology
Chinese
3
26000
No
04 Chinese Ancient Philology
Chinese
3
26000
No
05 Chinese Ancient Literature
Chinese
3
26000
No
06 Chinese Modern and Contemporary Literature
Chinese
3
26000
No
07 Chinese Minority Language and Literature
Chinese
3
26000
No
08 Comparative Literature and World Literature
Chinese
3
26000
No
09 Literary criticism and Creation
Chinese
3
26000
No
130100 Artistic Theory
01 Artistic Theory
Chinese
3
40000
No
130400 Fine Arts
00 No Distinction between Research Directions
Chinese
3
40000
No
130500 Design
00 No Distinction between Research Directions
Chinese
3
40000
No
135108 Art Design
01 Environmental Art Design
Chinese
2
40000
No
School of Journalism and Communication
050300 Journalism
00 No Distinction between Research Directions
Chinese
3
26000
No
055200 News and Communication
01 News and Communication
Chinese
2
30000
No
055300 Publishing
01 Publishing
Chinese
2
30000
No
093 College of History
060100 Archaeology 
01 Specialized Archaeology and Cultural Relics Research
Chinese
3
26000
No
02 Chinese Archaeology and Ancient Material Culture
Chinese
3
26000
No
03 Cultural Heritage Research and Protection
Chinese
3
26000
No
04 Museology Theory and Museum Practice
Chinese
3
26000
No
060200 Chinese History
01 Ancient Chinese History
Chinese
3
26000
No
02 Modern Chinese History
Chinese
3
26000
No
060300 World History
01 World Ancient and Medieval History
Chinese
3
26000
No
02 World Modern History
Chinese
3
26000
No
03 Regional and National History
Chinese
3
26000
Yes
04 History of Modern International Relations
Chinese
3
26000
Yes
065100 Cultural relics and Museum 
00 No Distinction between Research Directions
Chinese
3
26000
Yes
094 Japan Institute
020105 World Economy
01 Japanese Economy
Chinese
3
26000
Yes
030206 International Politics
01 Japanese Diplomacy
Chinese
2
30000
Yes
02 East Asian International Relations
Chinese
2
30000
Yes
060300 World History
01 Japanese History
Chinese
3
26000
Yes
095 Faculty of Philosophy
010100 Philosophy
01 Marxist philosophy
Chinese
3
26000
Yes
02 Chinese Philosophy
Chinese
3
26000
Yes
03 Western Philosophy
Chinese
3
26000
Yes
04 Logics
Chinese
3
26000
Yes
05 Ethics
Chinese
3
26000
Yes
06 Aesthetics
Chinese
3
26000
Yes
07 Religious Studies
Chinese
3
26000
Yes
08 Philosophy of Science and Technology
Chinese
3
26000
Yes
100 College of Foreign Languages
050200 Foreign Language and Literature
01 English Language and Literature
English
3
35000
Yes
02 English Language and Literature (Glasgow)
English
2
50000
Yes
03 Russian Language and Literature
Russian
3
26000
Yes
04 Japanese Language and Literature
Japanese
3
26000
Yes
05 Foreign Linguistics and Applied Linguistics
English
3
35000
Yes
06 Country and Regional Studies
Italian, French, Spanish
3
26000
Yes
055101 English Translation
01 English Translation
English
2
30000
Yes
055102 English Interpretation
01 English Interpretation
English
2
30000
Yes
055106 Japanese Interpretation
01 Japanese Interpretation
Japanese
2
30000
Yes
112 School of Law
030100 Law
01 Law Theory
Chinese
2
30000
Yes
02 History of Law
Chinese
2
30000
Yes
03 Constitution and Administrative law
Chinese
2
30000
Yes
04 Criminal Law
Chinese
2
30000
Yes
05 Civil and Commercial Law
Chinese
2
30000
Yes
06 Procedural Law
Chinese
2
30000
Yes
07 Economic Law
Chinese
2
30000
Yes
08 Environment and Resources Protection Law
Chinese
2
30000
Yes
09 International Law
Chinese
2
30000
Yes
115 Zhou Enlai School of Government
030200 Politics
01 Political Theory
Chinese
2
30000
Yes
02 Sino-Foreign Politicical System
Chinese
2
30000
Yes
03 National Security
Chinese
2
30000
Yes
04 International Politics
Chinese
2
30000
Yes
05 International Relations
Chinese
2
30000
Yes
06 International Relations (Glasgow)
English
2
50000
Yes
07 Diplomacy
Chinese
2
30000
Yes
08 International Affair and Public Policy
English
2
35000
Yes
030300 Sociology
01 Sociology
Chinese
2
30000
Yes
02 Demography
Chinese
2
30000
Yes
03 Anthropology
Chinese
2
30000
Yes
04 Social Work and Social Policy
Chinese
2
30000
Yes
040200 Psychology
01 General Psychology
Chinese
2
30000
Yes
02 Applied Psychology
Chinese
2
30000
Yes
120400 Public Administration
01 Administrative Management
Chinese
2
30000
Yes
02 Educational Economy and Management
Chinese
2
30000
Yes
03 Social Security
Chinese
2
30000
No
04 Public Policy
Chinese
2
30000
No
05 Urban development and management
Chinese
2
30000
No
130 School of Finance
020200 Applied Economics
01 Finance
Chinese
3
26000
No
02 Insurance
Chinese
3
26000
No
03 Financial Engineering
Chinese
3
26000
No
04 Actuarial Science
Chinese
3
26000
No
025100 Finance
00 No Distinction between Research Directions
Chinese
2
48000
Yes
025500 Insurance
01 Actuarial Science
Chinese
2
48000
Yes
02 Insurance
Chinese
2
48000
Yes
131 School of Economics
020100 Theoretical Economics
01 Political Economics
Chinese
3
26000
Yes
02 History of Economic Thought
Chinese
3
26000
Yes
03 History of Economics
Chinese
3
26000
Yes
04 Western Economics
Chinese
3
26000
Yes
05 World Economy
Chinese
3
26000
Yes
06 Population, Resources and Environment 
Chinese
3
26000
Yes
020200 Applied Economics
01 Regional Economics
Chinese
3
26000
Yes
02 Regional Economics (Glasgow)
English
2
50000
Yes
03 Fiscal Science
Chinese
3
26000
Yes
04 Finance
Chinese
3
26000
Yes
05 Industrial Economics
Chinese
3
26000
Yes
06 International Trade
Chinese
3
26000
Yes
07 Labor Economics
Chinese
3
26000
Yes
08 Quantitative Econometrics
Chinese
3
26000
Yes
09 Urban Economics
Chinese
3
26000
No
025300 Taxation
00 No Distinction between Research Directions
Chinese
2
30000
No
025400 International Business
00 No Distinction between Research Directions
Chinese
2
30000
No
00 No Distinction between Research Directions
English
2
35000
No
140 Business School
120100 Management Science and Engineering
00 No Distinction between Research Directions
Chinese
2
30000
No
120200 Business Administration
01 Accounting
Chinese
2
30000
No
02 Enterprise Management
Chinese
2
30000
No
03 Corporate Governance
Chinese
2
30000
No
04 Human Resources Management
Chinese
2
30000
No
120500 Library Information and Archives Management
01 Library Science
Chinese
2
30000
Yes
02 Information Science
Chinese
2
30000
Yes
03 Archival Science
Chinese
2
30000
Yes
145 College of Tourism and Service
120203 Tourism Management 
01 Services and Leisure Management
Chinese
3
26000
Yes
02 Tourism Business Strategy and Innovation
Chinese
3
26000
Yes
03 Tourism Big Data and Decisions
Chinese
3
26000
Yes
04 Tourism Geography and Planning
Chinese
3
26000
 
05 Exhibition Economy and Management
Chinese
3
26000
 
06 Tourism Destination marketing and management
Chinese
3
26000
 
THE END